First Lady Gives Remarks for Elementary Internet Essentials Launch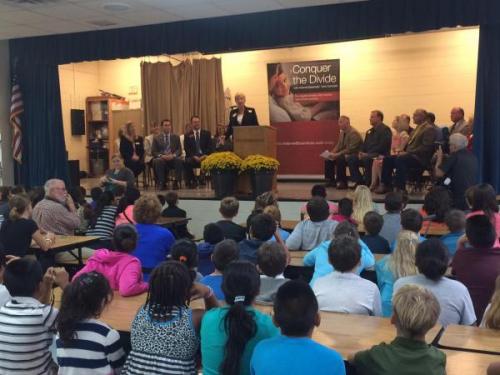 "We have a great deal of work ahead of us to bridge the digital divide in Georgia and to promote the importance of literacy among our youth," said Georgia First Lady Sandra Deal. "Through the governor's Innovation in Teaching competition and the recommendations of the Digital Learning task force, more Georgia teachers have the technology infrastructure, Internet access and online resources they need to teach necessary 21st century skills. Academic excellence is built outside the classroom as well, and Internet Essentials is the right step toward building these skills that will help students succeed in both learning and in life."
Comcast on Friday joined First Lady Sandra Deal, State Senator Christian Coomer, Bartow County Schools Superintendent Dr. John Harper and other state leaders to launch digital literacy at Hamilton Crossing Elementary School in Cartersville.
Hamilton Crossing Elementary hosted 100 Comcast employees, family members, school and PTA representatives this past Spring. Since then, Comcast project lead Jennifer Goff and fellow employees raised over $2,000 to purchase books for the school library. Comcast presented a donation of $2,500 to Hamilton Crossing for the purchase of books, as well as a $4,400 Comcast Cares Day grant to aid in supporting literacy in the Bartow County community.
Additionally, Comcast announced that TDF Ventures, a DC-based venture capital firm, would provide 25 students in the 11th Congressional District a laptop and one year of complimentary Internet Essentials service. 
About Comcast Internet Essentials:
The Internet Essentials program is the nation's largest and most comprehensive broadband adoption initiative for low-income families. Since its launch in 2011, Internet Essentials has connected more than 350,000 families, or approximately 1.4 million low-income Americans, to the Internet. This program is available in 39 states and the District of Columbia. 
To learn more or to apply for the program, visit www.InternetEssentials.com or call 1-855-846-8376, or, for Spanish, visit www.InternetBasico.com or call 1-855-765-6995.