To find directions to the State Capitol, click here.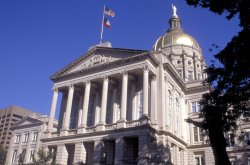 Distinctive in its design, Georgia's State Capitol is both a state and national treasure. Built more than a century ago after the end of the Civil War, it is constructed primarily of Georgia's own natural resources - marble, steel, iron and wood - with an exterior of Indiana limestone. The decision to use the state's own resources was intended to signal Georgia's independence and the quality of its products.
The Capitol stands at the gateway to Atlanta. Its gilded, 75-foot round dome serves as both a beacon to travelers and a platform for Ms. Freedom, a 15-foot, 2,000 pound statue, whose sword and torch commemorate the war dead. Its exterior dome was originally covered with an alloy of lead and tin. In 1958, citizens of Dahlonega and Lumpkin County sent a gift of gold via wagon train to the State Capitol; the following year the dome received its first gold leaf application. The gold has been reapplied twice since that time due to environmental and other damage suffered over the years.
Construction of the State Capitol began in 1884 on the site of the old City Hall. The laying of the cornerstone was a well-attended public event. The building was completed for less than the approved $1 million budget. The dedication took place on July 4, 1889. The four-story building rises more than 237 feet with its entrance facing Washington Street. The building has largely stood the test of time but has been renovated to suit the growing, changing needs of its occupants. The Capitol's first major renovation project was carried out in 1929 to transform the basement into first floor office suites. Restoration projects are ongoing.
The Capitol building, named a National Historic Landmark in 1977, is surrounded by and steeped in history. Encircling the grounds and lining its interior walls and hallways are statues, busts and pictures of some of Georgia's well-known citizens - President Jimmy Carter; Nobel Peace Prize recipient Martin Luther King, Jr.; Georgia's founder James Oglethorpe, Senator Richard B. Russell; General John B. Gordon, the first governor to occupy the Capitol.
A replica of the Statue of Liberty, a Flame of Freedom Memorial, two cannons, four large metal markers (installed by the Atlanta Chapter of the United Daughters of the Confederacy) and a bronze statue commemorating the expulsion of 33 duly-elected Black state legislators in 1976 hint at eras, achievements and occurrences to which the Capitol has been witness.
The State Capitol currently houses the offices of the Governor, Lieutenant Governor, and Secretary of State. Also within the Capitol are the highly decorative chambers for the State Senate and the State House of Representatives, House and Senate offices, and committee meeting rooms.
Guided tours are available through the Georgia Capitol Museum. For more information about a Capitol tour, please call (404) 463-4536 or visit www.libs.uga.edu/capitolmuseum.