Deal names leader for Office of Child Advocate
Deputy COO tapped as director of the Governor's Office of Workforce Development
Gov. Nathan Deal today announced two appointments to positions of leadership in child safety and workforce development.
Ashley Willcott will become the director of the Office of Child Advocate effective Feb. 1. In her capacity as director, Willcott will work closely with and provide input to state entities tasked to fight child abuse and neglect.
The governor has tapped Ben Hames to serve as executive director of the Governor's Office of Workforce Development effective immediately. In his capacity as executive director, Hames will oversee workforce investment activities and spearhead our state's skilled trade initiative, Go Build Georgia.
Ashley Willcott
Willcott is a Certified Child Welfare Law Specialist who has served as an attorney in various capacities in juvenile courts since 1992. Willcott has her own private practice and is a Special Assistant Attorney General representing the Department of Human Resources and Rockdale and Dawson counties' Department of Family and Children Services. She was appointed DeKalb County Juvenile Court Judge Pro Tem and previously served as the Fulton County Juvenile Court Judge Pro Tem. She was the executive director of the Fulton County CASA, Inc. and the corporate counsel for United Cleaning Specialists, Inc. Willcott earned a bachelor's degree from Newcomb College, Tulane University in Psychology and English and a law degree from Emory University. She resides in Dunwoody.
Ben Hames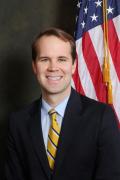 A veteran of two governors' administrations, Hames began his public service career as Gov. Sonny Perdue's Speechwriter and worked in the Governor's Office of Communications until moving on to serve Gov. Deal as Deputy Chief Operating Officer. Hames earned a bachelor's degree from the University of Georgia and a Master of Divinity from Southeastern Baptist Theological Seminary. He and his wife, Erin, have one son. They reside in Atlanta.